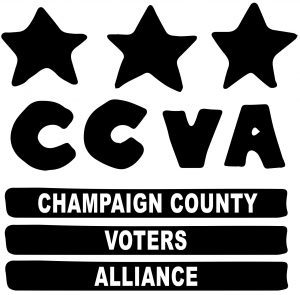 VoteChampaign (formerly Champaign County Voters Alliance (or CCVA)) is a local non-profit organization dedicated to increasing the Voter Turnout in Champaign County by as much as possible. In doing so we hope to create a more representative democracy of citizens. 
As an organization, we are strictly nonpartisan. We strive to invite all political opinions to the table for an open and honest discussion of what it means to be a citizen of this county. We strive to educate the citizens of this county on the options they have available to them. We will not endorse any specific candidate.
We are self-funded through small donations. Our costs to maintain the website & produce print materials are relatively small. However there are a significant amount of volunteer hours that go into building & populating each candidate guide, as well as to distributing informative handouts.
In 2019 we began partnering with The League of Women Voters of Champaign County. This partnership has allowed us to reach an even wider audience of potential voters in our community, and in doing so we grow our common goal of greater voter turnout. Please see what our local League is up to, they put a tremendous amount of work into voter education.
If you have any questions for us, or if you would like to volunteer, please email:  info@votechampaign.org
Thanks for visiting!
-Staff
For our most recent updates,
check these
Other Resources & Useful Info